Elephant in the Room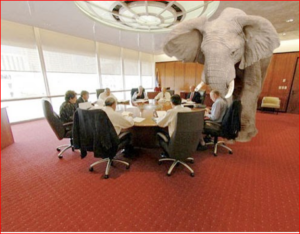 There is an elephant in the room concerning the survival-rate of new and low performing real estate agents.
The elephant is the fact that, for over 165 years, right from the beginning of residential brokerage in 1855, 85% of new agents have failed to renew their licenses for their third year and … most brokers and managers accept this as normal.
Let's begin by staring this elephant in the face and consider the reality that there is a way to reduce the huge failure rate.
The solution is Jerry Bresser's  Listing Solution Bundle.
The Listing Solution Bundle gives agents all the words, phrases, and presentation they need to become Listing Experts, and … it gives them the incentive to memorize and practice every step of their listing presentations until they win well-priced and full-commissioned listings on 90% of their listing appointments.
If you, as a managing broker, or an office manager, make it a requirement that new agents are full time and must obtain a one year subscription to The Listing Solution Bundle, so they have a chance to become listing experts, you can have most of your new or low performing agents survive and thrive.
Call or text 586-805-4034 to schedule a private demonstration. See for yourself how you can have 65% of all new your agents or low producers start getting enough good listings to survive or to reach their bigger listing goals.