WELCOME!
Membership in the Listing Solution Institute is open to all who have interest in the listing side of residential real estate.
Our mission is to offer the tools, training, and coaching necessary for agents to guide their sellers to the listing strategies needed for the sellers to get full value when they sell, for agents to become Certified Listing Experts and enjoy successful careers , and for broker-owners to gain and maintain listing market share.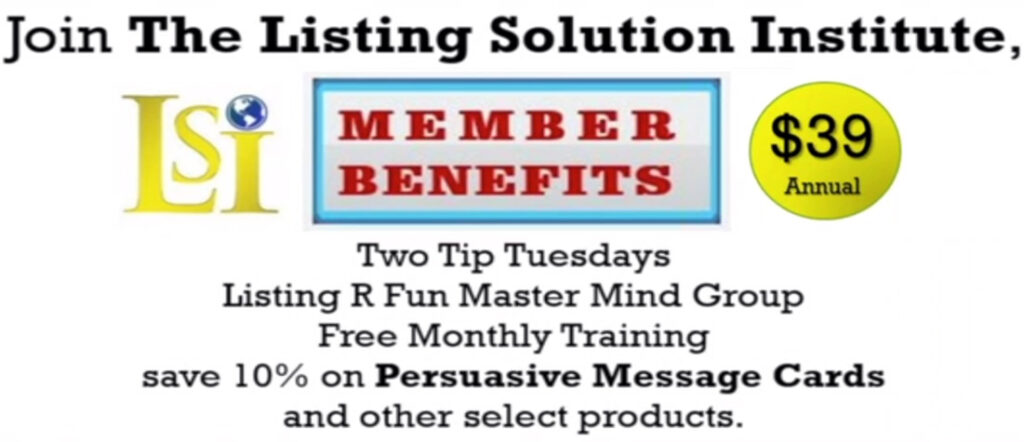 Two Tip Tuesdays — As part of you membership benefits, you will receive two good listing tips in your email inbox every Tuesday for the duration of your membership. These tips are aimed at Lead Generation, Lead Conversion, and better prices, commissions, and showability for faster sales and full value for your sellers.
Listings R Fun Mastermind Group — You can become part of a mastermind group where strategies for lead generation, lead conversion, and getting more saleable listings are discussed among members.
Free Monthly Training – Recorded and Live On-line. Q & A Sessions
All topics related to listing: Prospecting, Qualifying, Instant Rapport, Listing Presentations, Pricing Properly, Competing Stronger, Full Commissions, Closing Strategies, and Automatic Responses to Stalls & Objections.
10% Discount on Persuasive Message Cards and other select products and courses.